[not sponsored in any kind of way/nicht gesponsort]
Zu meinen Lieblingsbeschäftigungen in Wien zählt definitiv auch das Spazierengehen in der Innenstadt. Bei strahlendem Sonnenschein zeigt sich die beeindruckende Architektur einfach von ihrer besten Seite.
Und damit wir auch wieder aufs Thema zurück kommen – Spazieren gehen kann man auch genießen, ohne wirklich Geld auszugeben! 🙂 Klar braucht man ab und zu ein Ubahn-Ticket oder eine Fahrt mit dem Auto, um wohin zu kommen, aber das war es in den meisten Fällen auch schon. In diesem Post möchte ich euch also mal meine ersten Lieblingsplätze dafür zeigen.
One of my favourite free things to do in vienna is taking a walk in the inner city. Especially when the sun is shining, it's even better to enjoy the impressive architecture. An coming back to the main topic here on my blog – taking a walk is mostly completely free. 🙂 Of Course you'll need a subway ticket or a short car-ride from time to time, but that's it then. So in this post I am going to show you my first favourite places in vienna when it comes to taking a walk.
– MICHAELERPLATZ –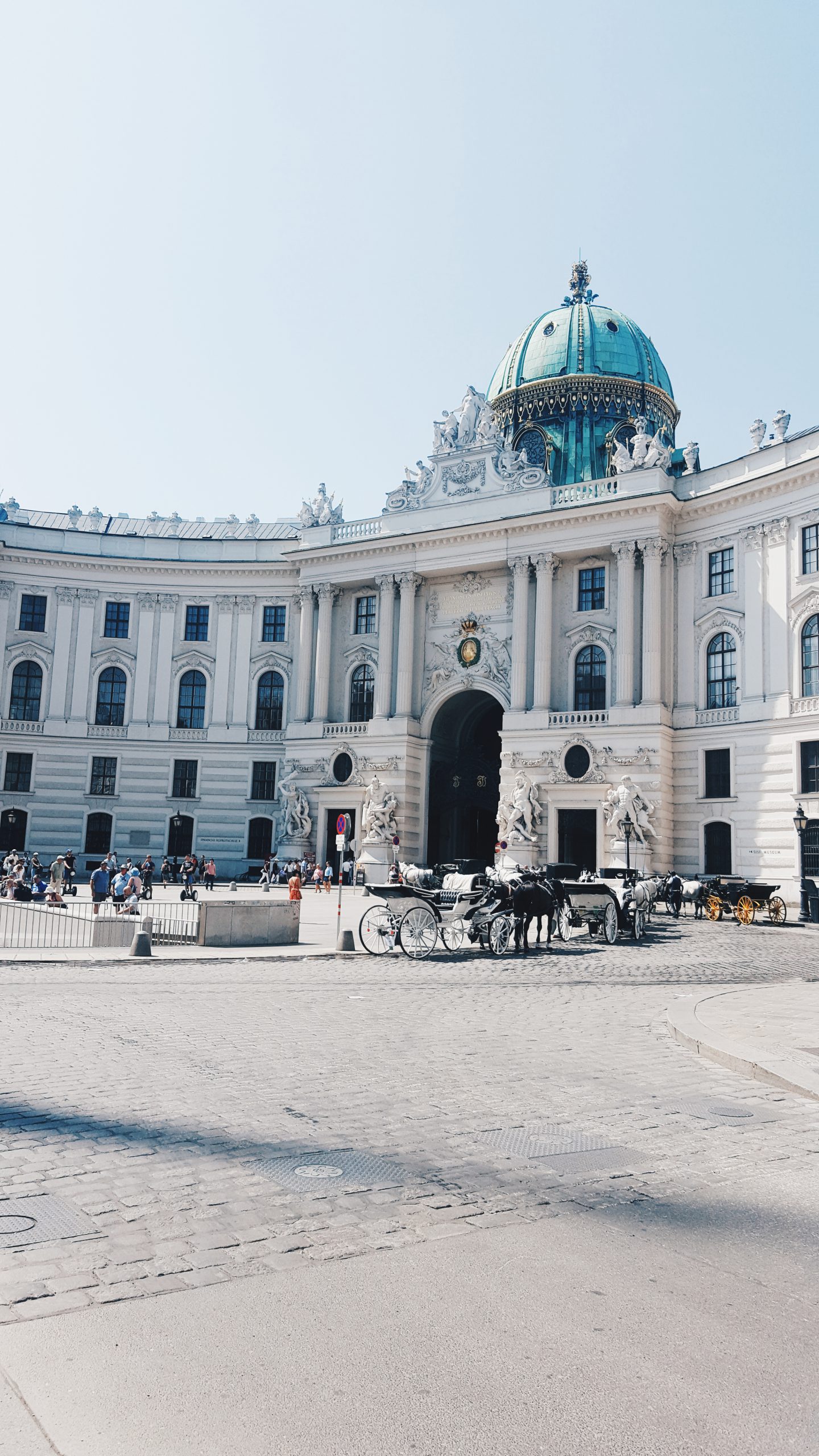 – HOFBURG –
Innerhalb weniger Gehminuten erreicht ihr vom Michaelerplatz aus die Hofburg, die in echt noch beeindruckender aussieht, als auf dem Foto unten.
You'll reach the "Hofburg Palace" in a couple of minutes, starting at the Michaelerplatz. Looking even more impressive in real than on the picture below.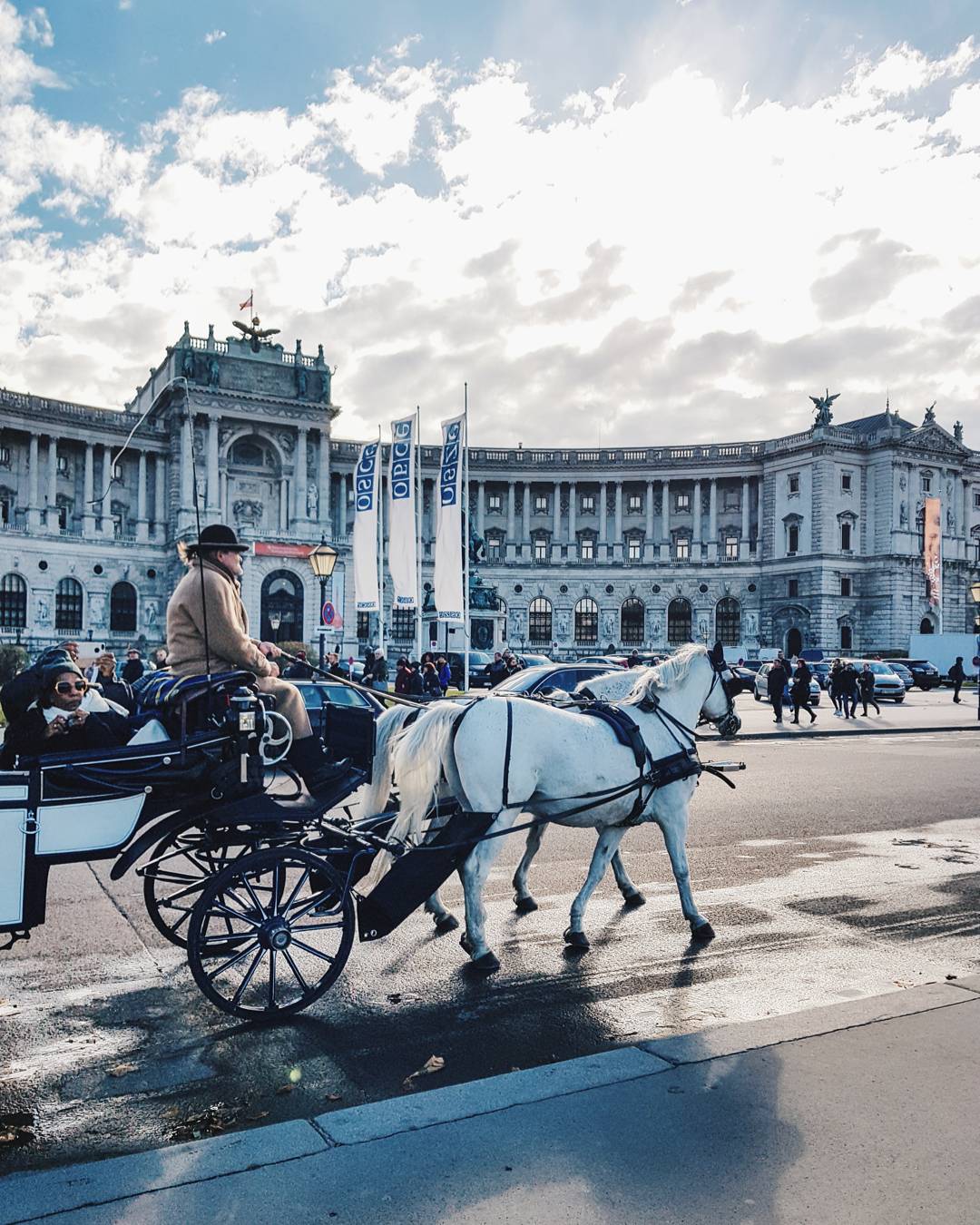 – STEPHANSDOM –
Die folgende Aussicht könnt ihr oben am Nordturm des Stephansdoms genießen.
Dafür müsst ihr in den Stephansdom hinein, dann haltet ihr euch links, geht am Souvenirshop vorbei und danach kommt ein kleiner Eingang, der zu einem Aufzug führt. Dieser bringt euch dann direkt nach oben. Der Eintritt um da nach oben zu fahren kostet 6 €, also echt auch ein leistbarer Zeitvertreib! Bei schönem Wetter sehr zu empfehlen! 🙂
Auf den Südturm kann man auch hinauf, da werde ich für euch auch noch vorbei schauen, um euch einen kleinen Vergleich der Ausblicke liefern zu können.
You are able to enjoy the following view on top of the "North Tower" from the St Stephen's Cathedral. To get up there you'll have to walk inside the cathedral (no entrance fee, but make sure you wear appropriate clothes), turn left, walk past the small souvenir shop and then take the small entry on the left. You'll have to pay 6 € to be able to use the elevator which takes you up there but it's absolutely worth it (and let's be honest, not really expensive). There is also a second tower, the "south tower" where you'll have to take the stairs to get up to but the last time i have been there i was like 8 years old, haven't been up there to take photos for you, yet.. 🙂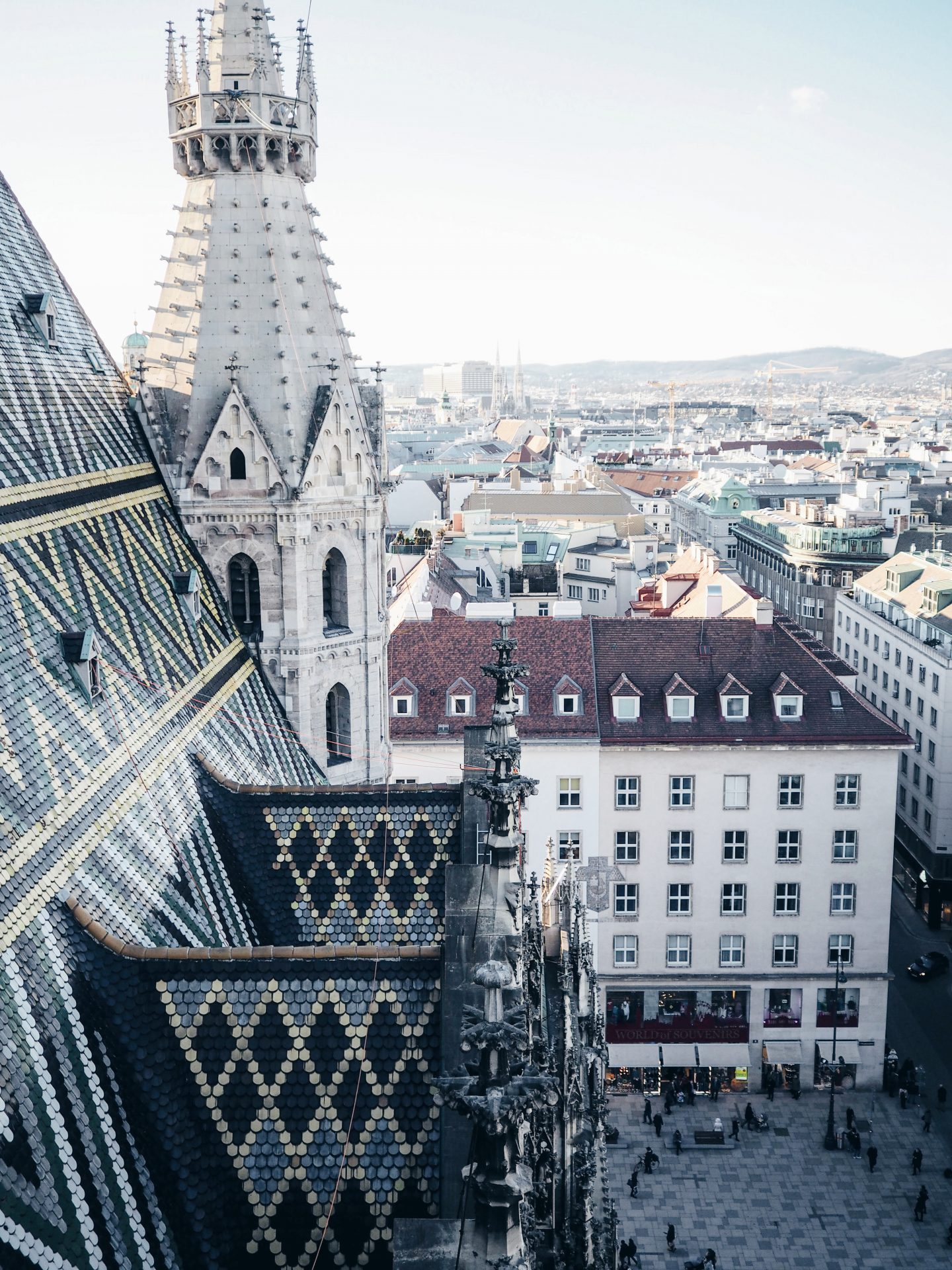 – PETERSKIRCHE –
Die Peterskirche kann man vom Stephansdom aus, über den Graben sehr leicht erreichen. Zugegeben – ich war selber noch nicht drin, aber sie sieht von außen auch schon mal sehr schön aus! 🙂
The St. Peter's church is located very close to the St. Stehen's cathedral.
– SCHÖNBRUNN –
Was bei keinem Wien-Besuch fehlen darf ist eindeutig das Schloss Schönbrunn und ein Spaziergang in den Gärten rund herum! Dafür solltet ihr euch aber ein paar Stunden Zeit nehmen, weil die Gärten einfach sehr weitläufig sind bzw Touristen auch gerne mal eine Führung durch das Schloss machen, um zu sehen, wie Kaiserin Sisi gewohnt hat :-P.  Wenn aber auch der Tiergarten Schönbrunn auf eurer Liste steht, dann solltet ihr euch dafür schon einen ganzen Tag einplanen.
Auf dem ersten Bild sieht man hinter mir auf dem Hügel die "Gloriette", zu der man auch raufspazieren kann. Dort oben gibt es ein kleines Café um sich dann auszuruhen oder aber auch um den Sonnenuntergang zu genießen, den ich zB auf dem letzten Bild darunter festgehalten habe.
Um einen Spaziergang in den Gärten zu machen, bzw um zum Schloss oder zur Gloriette zu kommen müsst ihr keinen Eintritt zahlen.
Probably the most important "must do" for every tourist in vienna is visiting the Schönbrunn castle. Make sure to plan in a couple of hours for that, since the gardens around the castle are really wide. If you also wanna visit the zoo or take part in a guided tour inside the castle you should definitely plan to spend the whole day there.
On the first Picture you can see the "Gloriette" up on the hill behind me. You can walk up there and trust me, you'll be rewarded with a great view , especially when the sun sets, which you can see at the last picture below.
To take a walk around the gardens and up to the Gloriette you don't have to pay an entrance fee.
A day at the zoo costs about 18 € for an adult.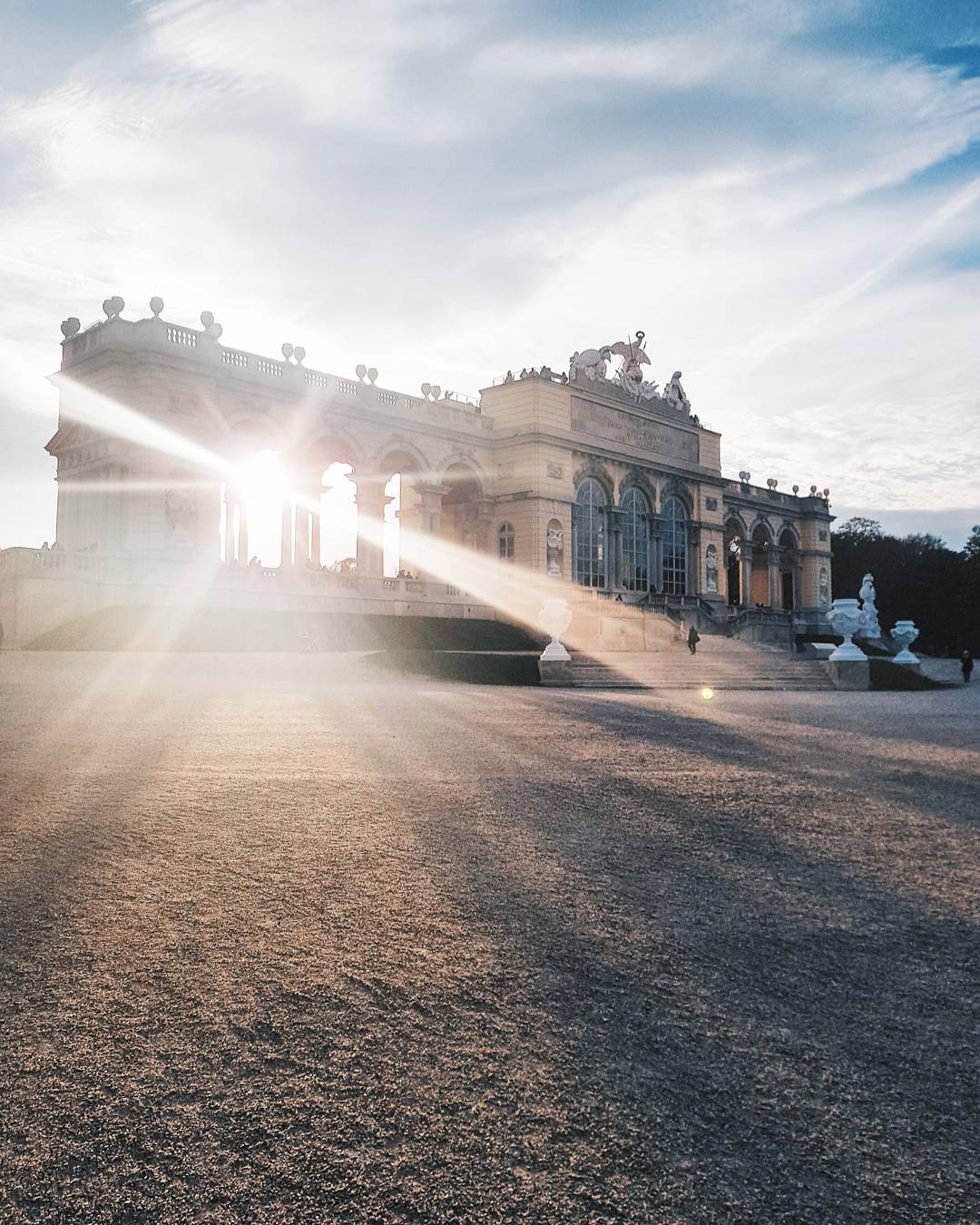 Falls ihr noch spezielle Fragen habt, immer gerne her damit.
If you need to know anything else, feel free to reach out to me.